Technology developed for the test and measurement industry has wide applications, including 5G communications, mil/aero systems, high-speed data acquisition, and communication research
At Keysight Technologies, the push for bigger, better, and faster solutions is constant. The engineers at Keysight Laboratories, the company's central applied research lab, focus on moving test and measurement technology forward, often in cooperation with Keysight's vendors. Usually these developments happen in steps. Recently, a leap was required.
In 2016, Keysight Labs saw that the data transfer speeds in Keysight's test and measurement solutions were reaching a limit. Tests needed to support higher frequencies and provide better fidelity, leading to larger data streams at higher speeds. At the time, Gen 3 PXIe technology could move data at a theoretical maximum speed of 8 GB/s (64 Gb/s), and while the PXIe consortiums have defined faster standards, the limit in practice is still lower. It's a technical problem that hasn't yet been solved. A different solution was needed.
Keysight engineers believed the answer was fiber optic cable, which had been successfully used in the communications industry for years. To adapt it to the test and measurement industry, Keysight worked with Conduant Corporation and other companies to develop the Optical Data Interface (ODI) standard. Now endorsed by the AXIe Consortium and VITA trade association, the ODI standard defines a new high-speed interface for instrumentation systems. ODI shatters speed and distance barriers by relying on optical (rather than electrical) communication between devices over a simple pluggable cable. With speeds up to 20 GB/s (160 Gb/s) from a single optical port, and up to 80 GB/s (640 Gb/s) through port aggregation, ODI could far surpass the limits of PXIe.
With the standard in place, Keysight began implementing ODI technology in its instruments, starting with an arbitrary waveform generator. The AWG had two channels, each with its own ODI port capable of 20 GB/s (160 Gb/s), which supported sustained streaming of 14 bits at 8 GSa/s or 12 bits at 12 GSa/s. These speeds are extremely difficult to achieve over electrical interfaces greater than a few inches, and they were too fast for the existing PXIe backplane to handle. A faster recording system was needed. Conduant, a leader in ultra-fast, long-duration digital recording and playback systems, would provide this piece of the puzzle.
Conduant had a family of off-the-shelf data recording solutions, including a streaming SATA disk controller that provided over 800 MB/s of sustained performance. This technology was the basis for the Cobra architecture, which incorporates a custom FPGA board and high-speed storage in a PXIe chassis.
Working together, Conduant and Keysight developed the Cobra recording system, which resolves data speed limitations by collecting data at the much higher optical speeds and spreading it across multiple PXIe storage elements. The Cobra board features two optical I/O interfaces, high-speed RAM, and a high-performance Xilinx FPGA. The board can input or output data through either port at 20 GB/s (160 Gb/s), and it manages the transfer of data to and from an NVME solid-state storage module at 5 GB/s (40 Gb/s). Daisy-chaining four Cobra boards together in a PXIe chassis creates a system that provides sustained recording and playback at 20 GB/s (160 Gb/s).
Having proved its value in Keysight's proprietary solutions, the Cobra board is the basis for Conduant's Cobra High-Speed Recorder. With 24 lanes of high-speed fiber in the standard configuration, the system can record or playback over the Interlaken, ODI, SerialFPDP and Xilinx Aurora protocols. Multiple fibers can be bonded to produce a single 20 GB/s (160 Gb/s) data connection, or each fiber can be used as an independent channel to simultaneously support many data sources.
A typical system configuration includes an Intel processor-based controller, one to four Cobra boards, and one to three SSD-based storage boards for each Cobra board. The PXI Express backplane allows numerous configurations and combinations of storage and recording boards to meet specific needs. As faster PXIe standards become available in practice, the Cobra architecture is positioned to introduce new products based on that new technology.
The diagram below shows an example of how the Cobra can be used in a test system.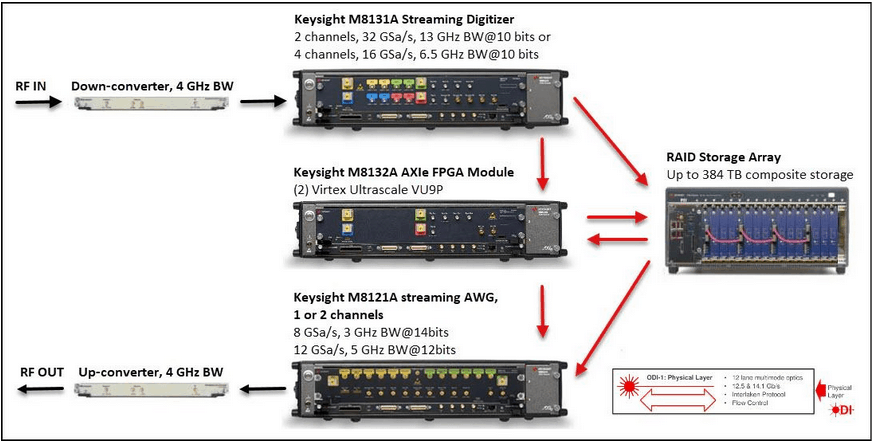 The Cobra technology has applications outside of the test and measurement industry. One potential application is in 5G wireless technology, where signals can easily require 15 GB/s (120 Gb/s) and more for additional channels. In 5G testing, high-bandwidth signals are recorded and played back to simulate problematic scenarios, such as a test fading due to a device moving or rotating. In this case, a scenario is captured and processed to various parameters and impediments, then played back as a suite of test cases to a 5G receiver. This may be further augmented to simulate a handoff between cells or several other scenarios. The combination of the high bandwidth of the instruments and the data throughput of ODI leads to a very capable and flexible test system. If intermittent problems are experienced in the field, the scenarios can be recorded and played back until the root cause of the problem is discovered. This application also exists in satellite testing, where hours of signal data are recorded and then played back to test the design.
Another potential application is electronic warfare. In this case, a digitizer and its onboard processors can be connected directly to an AWG to produce various real-time threat scenarios, which are then captured by the Cobra recorder. This is a good example of an application that lies on the border of operational systems and test systems. Additional applications range from aeronautics to the testing of satellites and self-driving cars.
While the ODI standard itself was developed for the test and measurement industry, it is open to all vendors without license fees or royalties. ODI works with AXIe, PXI, LXI, VPX, or a traditional bench instrument design because it uses a standard optical connector that can be placed anywhere on any device. Off-the-shelf components from Intel, Samtec, and Xilinx are available to create compatible ODI interfaces for any product from any manufacturer.
A key aspect of ODI is multi-vendor interoperability. Products from different vendors must operate together at the top ODI speed for the system to work. With core digitizers, signal generators and processors now available with ODI interfaces, the number of ODI-enabled devices will continue to grow. Look to the Conduant Cobra High-Speed Recorder to provide the storage they will require.